Enhancing Language Learning with – Erika Nielsen
Erika Nielsen is a writer and illustrator of children's books. Her writing and illustration methods work together to provide an integrated approach to storytelling. Her aim is to educate and entertain young readers. She introduces concepts and vocabulary to describe these concepts that are not commonly used by young children. As someone who is mindful of language acquisition, she believes that increasing vocabulary in the children's first language provides a good foundation for their future education and intellectual development.
Erika Nielsen works with other authors who share the belief that "visual art illuminates and enhances language learning".
Erika Nielsen lives with her family in New York.  Erika Nielsen is a pen name.

Elena Sadov
Elena Sadov began her career as a professional interpreter and translator. Later, working with the principal and leading teachers, she assisted in founding a successful non-profit school, where she subsequently served for three years as Chair of the Board of Directors.
Currently, Elena Sadov writes books for children and non-fiction books for adults on language-related topics.
She speaks multiple languages. She is studying calligraphy and traditional Chinese painting.
Elena Sadov is married, has two children, and lives on Long Island, New York.

Annemarie Waugh is an artist, illustrator, writer, poet, and community activist. She was born in Great Britain and resides in the United States.
The idea for her book, Across the Pond, came from the art show she had participated in, called "Remembering Things Past," an international show featuring artists from different countries. She did an installation for which she painted a whole wall, resembling a chalkboard, with 144 British expressions, all numbered. On the next wall, she wrote the definitions of those expressions, so that the viewers would try to guess what the British expressions meant and then look for the answer to see if they had guessed correctly. The overall shape of the definitions on that wall resembled the map of the United States. The other two walls featured her framed paintings based on her favorite British expressions.
In her book, Across the Pond, she uses vivid, humorous, and lively images to illustrate uniquely British words and phrases. The book is intended for a wide readership. It may be of particular interest to anglophiles living in the United States, British ex-pats who are feeling a bit nostalgic, as well as the millions of English speakers who travel to Great Britain and who would like to familiarize themselves with British English and perhaps bring back a souvenir when they return home.
Full of vigor and artistic ideas, these images speak to the viewer, in contrast to detailed and dry tomes intended for language specialists. Inquisitive readers can find more detailed information in the index at the back.
The book is published in two formats. The full-size edition is a more comprehensive collection of the artist's work. The travel edition is a smaller, lighter edition that is easy to take along on a journey or bring home.
Annemarie Waugh is the founder of the Sidewalks for Safety Initiative. She is actively promoting projects that improve the environment and address the issues of sustainable community development and public health, with an emphasis on the well-being of children.
Click below to listen to the Interview
Hong Li Snyder, born in Yunnan, China, is a writer, language teacher, and uniquely gifted cultural interpreter. She has translated and published more than a dozen children's books. She studies Chinese painting and promotes the teaching of traditional Chinese art and calligraphy.
Her series of seven books, entitled Hello, Chinese Festival, is about Chinese holidays. It includes Chinese text both in characters and in pinyin, as well as in English to facilitate reading for students of the Chinese language. These are holiday storybooks with which the readers can learn, play, and learn to prepare traditional holiday food. The series is being published by Shandong Friendship Publishing House, a major Chinese publishing house. The first two books of the series will be released in the first quarter of 2020.
The Hello Chinese Festival series consists of seven volumes covering seven major Chinese traditional festivals: Spring Festival, Lantern Festival, Qingming Festival, Dragon Boat Festival, Qixi Festival, Mid-Autumn Festival, and Chongyang Festival. The Festival elf Wawa and the little boy Tiantian guide the readers on a wonderful Chinese holiday journey.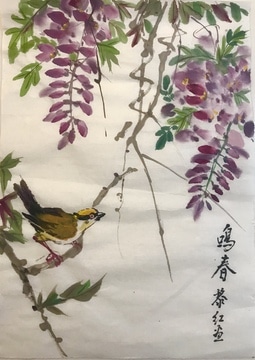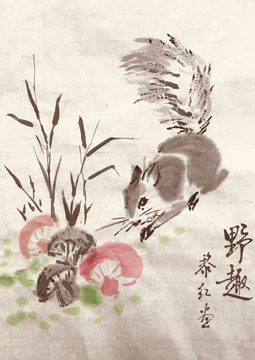 Interview with Hong Li Snyder
What made you decide to teach Mandarin?
My daughters were born in the US. We are a bilingual family. My husband is from the US and I am from China. That's why I think it is important for my children to study Mandarin. I used to be an accountant, but when my kids were born, I began to teach them Mandarin, and other children, as well. Because of the changes in the world economy, many people travel to China for business, so many have become interested in learning the Chinese language. People frequently ask me how to say particular words or phrases in Chinese, so I feel there is a real demand for learning the language. I have never thought of becoming a teacher in my whole life, but when I saw how many people are interested in the language, I changed my career.
Do you find your work easy?
No, I do not find it easy. I think it is very hard. When studying a language, it is very helpful to be immersed in the culture where the language is spoken, which is not the situation we have here in the United States. Mandarin is one of the most difficult languages in the world to acquire for non-native speakers. Teaching is very challenging. Even though students are interested in learning and are prepared to work, the writing system is very different and is separate from spoken language. Everyone is very enthusiastic in the beginning. "Oh, I want to study! It is such a cool language and the writing is beautiful, like art." But when we study a little bit, when the students learn to speak a bit and want to start to write, a lot of students want to pull back and want to quit, because it is very hard. They have to double their effort to study Mandarin, compared with the effort they would have to make if they studied another language. This is why I don't think it's easy. Especially for the American students who study Mandarin. They cannot get any support from their parents when they go home. If they studied another language, such as Spanish, they could learn to speak and write at the same time, and their parents could help them a little bit. Mandarin is really hard. Parents want to help them, but they cannot. So, it's not easy for the students and not easy for the teacher, as well. But I really want to teach Mandarin! Even when I see small progress, it makes me feel so happy!
Do you find that pin yin is helpful when teaching non-Mandarin speaking students?
I think it is very helpful. Pin yin teaches them how to pronounce words. I think that pin yin is very important for non-native speakers because without them the students would not be able to read, they could not guess what the words sound like. Because the Chinese characters are like pictures, the students would be totally at a loss about how to read them. In Spanish, when they see a word, they can guess how to read it, but this is not the case with Mandarin. Even when the students don't know how to read Chinese characters, they can read what is written in pin yin and be able to pronounce what is written, even when they don't know the meaning of what is written, which gives them some confidence. For children who are native speakers, pin yin is not necessary. They learn to read Chinese characters directly, but for non-native speakers, pin yin is very helpful. Non-native speakers learn how to read first and then they figure out how to write.
What do you think is your biggest challenge in teaching the language?
The biggest challenge is teaching to write. For example, my younger students spent the first three years mostly learning how to speak, but this year they have a new challenge of learning to write Chinese characters. It had been very hard for them; they complained every day. However, I emphasized the study of radicals; they are essential components of Chinese characters and are very important in learning how to write. After three months of complaining, my students are finally getting to the stage where they feel competent enough in their writing and are making some meaningful progress. They have been learning strokes and radicals, so it became easier for them; otherwise, it would have been very hard.
What is it about traditional Chinese painting that you find most inspiring?
I think that painting is so vivid and so beautiful! I have been studying traditional Chinese painting every week, for 3 years.
Do you feel that you have made progress and you have learned something about yourself?
I have learned how to express my feelings. When I paint a flower, I can appreciate the beauty of the world and it makes me feel very happy.
Do you think that studying Chinese painting connects you to Chinese history, as well?
Yes, I think so. Studying Chinese painting can take you back in time. I especially like the fact that the beautiful paintings are connected with beautiful poems. It could be a whole poem or just a few lines. So, when you study traditional Chinese painting, you are also studying literature. After you read a poem, you form a mental picture of what the poem is about, then you look at the painting that the artist has produced, and you get a deeper appreciation for both the painting and the poem that accompanies it. When you study painting, you improve your knowledge of literature. That's really true.
One final question, you brought a guest artist into your classroom to teach calligraphy and traditional Chinese painting. How did the students respond?
They really loved it! Everyone was happy, the students, the whole school. It was the
first time the students used a brush and ink in our class. They wrote the word "ai," which means "love" and they also made some paintings, which were put in the front hall of our school. Even on their first try doing calligraphy and painting, they did a great job!
Did you notice any change in attitude before and after this class, in terms of their attitude towards their class?
Big change. More students wanted to study Mandarin. In our school, we offer only two languages: Spanish and Mandarin from pre-K to eighth grade. Children begin studying both languages, and in 5th grade, they have to choose which language they want to continue studying for the next four years. Every year most students choose Spanish. The most important reason is that they think that learning Spanish is easier. The second reason is that a lot of public schools right now do not offer Mandarin as a foreign language. Usually, it is the parents who insist that their child should study Mandarin because it is so important now as a language of business. It is a language spoken by a great many people in the world. They think that the children should not be afraid to study something challenging. When the artist came to our school, I asked him to bring a lot of his art to show to the students. The students who study Spanish also wanted to come and look, but I didn't have enough room for everybody in the classroom. I need to focus on my Mandarin students. After the artist's visit, they have been writing a lot more, and not complaining about it, because they appreciate the beauty of the writing. By the time the students graduate, they can read pin yin, and they can write some characters. When they encounter a word that they are not familiar with, they know how to learn to write it, because they know the radicals. They know how to study by themselves, even if Mandarin is not taught to them in high school. Some students who go on to private school have an opportunity to continue to study Mandarin, but even those who have to switch to studying a different language, such as Spanish or French, can continue to study Mandarin in the future because they have a solid foundation to be able to continue learning the language in college.